MONEY BACK GUARANTEE
FREE US SHIPPING
FREE INTERNATIONAL SHIPPING ON ORDERS $200+
100% SECURE CHECKOUT
Customer Reviews
Write a Review
Ask a Question
Filter Reviews:
neck
birthday
daughter
colors
stones
size
02/23/2021
Patricia C.

United States
Beautiful work of Art
I purchased this necklace for my daughter for her 13th birthday. It is the perfect size for her neck. It is finely crafted and sturdy enough for daily wear the colors of the stones are absolutely gorgeous!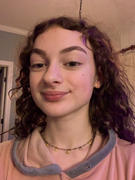 11/30/2020
Elora R.

United States
Beautiful
The company is very responsive to any questions I have. I wanted this necklace for a while but it sold out the first time and I expressed my interest in still wanting one. So I am glad they restocked it. It is very delicate but gorgeous. Well made.
06/21/2020
Amy M.

United States
Thrilled!
This necklace is stunningly beautiful. It is simple & elegant yet makes a statement. This necklace layers well with other necklaces which makes it so versatile. I gave this to my daughter for her 17th birthday. I love the spirituality & symbolism of this necklace. I wanted to give something meaningful that she could wear all the time. My daughter loves the necklace & has worn it every day since getting it. I love this store!!!
Karma & Luck - Jewelry of spiritual symbols that nourish your soul. It is time to meet the jewelry and decorative accessories firm that sets the standard for a personal narrative that transcends time.
This Antique Bronze Red String Protection Bracelet will deter all the negative energy and bless you with health, good fortune, and success.
Karma And Luck's handmade "Fiery Luck Evil Eye Charm Wrap Bracelet" is empowered by the cleansing Jade stone attracting abundance and prosperity.
Karma & Luck creates its collections inspired by ancient traditions to bring good fortune to your life and home surrounding you with protective energy.
These Feng Shui Trees feature stones that are said to help you manifest whatever you wish for in life and to help balance the forces within your home.
Karma and Luck's Serene Reflections Jade Buddha Red String Bracelet brings the wearer luck, protection and serenity.
The Pure Break Feng Shui Pearl Stone Tree is all about protection, and represents beauty and motivation, with pearl leaves that symbolize innocence, beauty and foresight
Karma And Luck's handmade bracelets are empowered by the cleansing stones attracting abundance and prosperity.
Wherever friends are on their spiritual journey, the Karma and Luck Red String Bracelet has the frequencies to guide them to love and compassion.
Step up your fall fashion looks with the perfect piece from Karma and Luck.